8 Best Ways to Wreck Your Coupling Driven System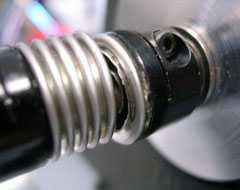 Introduction:
Keeping a servo driven system running at peak efficiency is no simple feat. Misunderstanding performance criteria such as misalignment, torque, or RPM can be all it takes to cause a critical and costly failure. The following are the 8 best ways to consistently sabotage or damage your coupling driven system (and how to avoid them in the future).
5 Reasons to Consider Using Jaw Couplings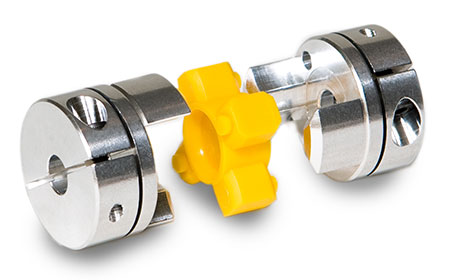 Introduction:
Jaw couplings are a three-piece assembly comprised of two lightweight aluminum hubs that press fit onto an elastomeric element called "the spider." The press fit concentrates forces to the center of the spider's limbs and allows the coupling to operate with zero-backlash. Spiders are available in three durometers allowing the user to find the right balance of stiffness and compliance in their application. Hubs with the same outer diameter can be mixed and matched and are manufactured in clamp or set screw styles, and can have inch, metric, keyed, or keyless bores.
7 Reasons Why Shaft Collars Fail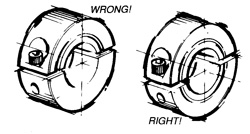 Introduction:
There are a number of potential issues that arise during installation. If the screw is over torqued it may lead to permanent deformation and stress cracks of the collar causing uneven surface contact and reduced holding power or complete failure. Their holding power is derived from the screw biting into the shaft. Hardware is the most important part of the shaft collar. It is where they derive all of their holding power. The primary considerations of hardware are tensile strength of the material, lubrication, thread quality, and tightly held geometry and size tolerances.Shaft collars are viewed as simple components, but there is a lot of design work that goes into properly manufacturing them. Sizing of the bore, width, outer diameter, and screw are critical to proper function.
What to Look for In a Servo Coupling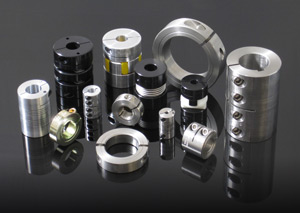 Introduction:
Selecting a coupling for a servo application can be a complex process. It involves many different performance factors, including: torque, shaft misalignment, stiffness, rpm, space requirements, and others, that all must be satisfied for the coupling to work properly. Before selecting a coupling, it is helpful to know the specifics of these issues for the application for which the coupling is to be used. Many different types of servo couplings exist with their own individual strong and weak points. This article is designed to introduce end users to the different types of couplings available for servo applications. It also helps the user select the proper coupling for their application by highlighting the factors that should be considered in the decision making process and how they relate to the different product offerings available.
Avoiding Coupling Failure:
Considerations in Design Selection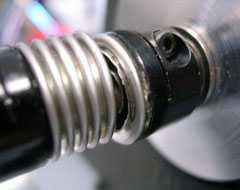 Introduction:
Mechanical couplings have a principal use in the connection of rotating shafts for the transfer of rotary motion and torque. As with all mechanical devices, a coupling must match its' intended purpose and application parameters, including many different performance, environmental, use and service factors. All must be satisfied for the coupling to work properly. When selected with these design parameters in mind, and when installed and operating correctly, a coupling should have no failure issues over it's' lifetime. However, when one or more of these is not met a coupling can prematurely fail, resulting in either a small inconvenience or possibly serious financial loss or personal injury. This article provides a view of the primary reasons couplings fail, and the steps that can be taken to minimize the risk of failure.
Getting a Hold on Shaft Collars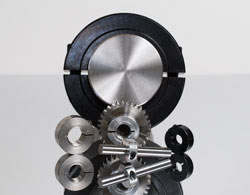 Introduction:
Shaft Collars are one of the simplest components in power transmission and are the most indispensable. They can be found in virtually any type of machinery, and are frequently accessories to other components. Among their many roles, shaft collars hold bearings and sprockets on shafts, situate components in motor and gearbox assemblies, and serve as mechanical stops.
Rigid Couplings for Motion Control Applications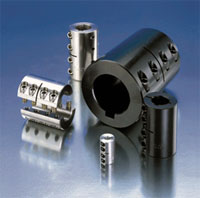 Introduction:
Rigid couplings, which are sometimes called sleeve or muff couplings, have been historically imprecise, inexpensive, and often home made components for simple shaft to shaft connections. In the past many people would not consider using a rigid coupling in any servo application. However, smaller sized rigid couplings, especially made of aluminium, are increasingly being used in motion control applications due to their high torque capacity, stiffness, and zero backlash.
Selecting the Proper Beam Coupling for an Application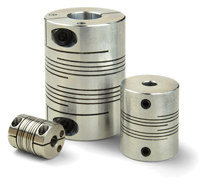 Introduction:
In the design of motion control equipment, typically the coupling is left as one of the last components to be specified. In fact, couplings are often overlooked or taken for granted rather than treated as a critical part of the performance of the system. Selection of the proper coupling ensures the equipment will meet the requirements for performance and have a long, trouble free life. Conversely, poor coupling selection can leave designers and end users of equipment frustrated with imprecise positioning and frequent maintenance requirements.
Servo Coupling Selection for Machine Vision and Optical Inspection Systems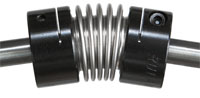 Introduction:
Machine vision and optical inspection systems are high tech, multi-purpose applications that require high precision components. A machine vision system can be used for a number of tasks where it essentially replaces the human eye with a camera. The applications vary and no two systems are exactly alike, but there are two common traits between all machine vision systems - the need for motion and a demand for precision.