About
Hubs
This section will allow you to select hubs to be used individually or as part of an assembly. Ruland manufactures oldham couplings with a proprietary hub machining process that combined with the anodized finish improves lubricity and allows for the longest service life in the industry. Torque transmission is achieved by mating the slots on the center disk to the drive tenons on each hub. Oldham couplings can help protect expensive machine components by acting as a torque limiter during overload. The disc breaks cleanly and does not allow for any power transmission. Oldham couplings are also electrically isolating since disks are non-conductive
EXPLORE >>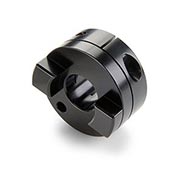 Disks
This section will allow you to select disks to be used individually or as part of an assembly. Ruland offers users the ability to tailor the performance of oldham couplings to match their application needs as disks are available in three materials, acetal for high torsional stiffness and zero-backlash, nylon for shock absorption and noise reduction, and PEEK for high temperature and low outgassing. The slots of the disk mate onto the tenons of the hub with a slight press fit to allow the coupling to operate with zero backlash. In the event of disk wear or failure, the disk can be easily replaced and the oldham coupling's original performance restored. Disks with a center hole are available upon request to allow full shaft penetration.
EXPLORE >>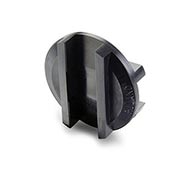 Oldham Bundle
This section will allow you to select the components to create a complete coupling. Please note that all orders ship unassembled. When you are ordering or downloading CAD all components are individual. They must be specified on any purchase order with a minimum of two part numbers. The combinations listed are a complete offering combining all available hubs and disks.
EXPLORE >>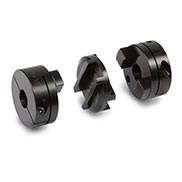 Why Ruland?
Proprietary hub machining process leaves a smoother surface for interaction between hub and disk resulting in significantly longer life.
Balanced design reduces vibration and allows for higher RPM.
Accommodates a high amount of parallel misalignment (up to 10% of the outer diameter) with very light bearing loads.
Three-piece design allows for ease of customization, installation, and blind assembly.
Disks are available in nylon for dampening of impulse loads and noise reduction, acetal for high torque capacity and zero-backlash, and PEEK for high temperature and low outgassing.
Stops transmission of power during overload conditions.
Manufactured and stocked at our Marlborough, Massachusetts factory. Special designs are available.
All Ruland oldham couplings are RoHS3 and REACH compliant.
CUSTOM DESIGNS
As a service to our customers, we offer our vast manufacturing experience and talents to meet special needs with custom parts. Our in-house engineering team has extensive experience designing and custom engineering solutions to meet your requirements. If you do not see what you are looking for in our standard line, please inquire about custom options..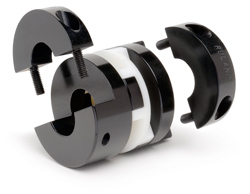 Examples of Custom Work
Custom bore sizes, tolerances, and/or geometry.
Fail safe designs.
Special hub lengths.
Set screw hub connections.
Stainless steel hubs.
Special hardware requests.
Products