Oldham Couplings for Semiconductor Applications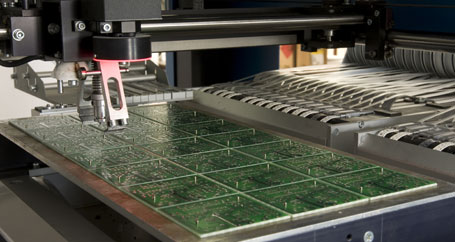 Need a zero-backlash coupling that can accommodate high amounts of parallel misalignment while maintaining the accuracy needed for semiconductor equipment? Ruland manufactures oldham couplings for semiconductor applications including test, measurement, wafer handling, etching, grinding, and pick and place equipment.
Oldham couplings from Ruland are a three-piece assembly comprised of two anodized aluminum hubs and a torque transmitting center disk . This design results in a highly customizable shaft coupling which can easily combine clamp and set screw style hubs with inch, metric, keyed, and un-keyed bores. The replaceable center disc is available in acetal plastic for high torsional stiffness and zero-backlash or nylon for shock absorption and noise reduction. Ruland oldham couplings have a balanced design for reduced vibration at higher speeds.
Oldham couplings transmit torque by mating the slots on the center disc to the drive tenons on the hubs. Ruland utilizes a proprietary hub machining process that leaves a smoother surface for interaction between the hub and disc leading to increased lifespan and performance. Oldham couplings accommodate high amounts of parallel misalignment with light bearing loads reducing overall system wear. They are also electrically isolating and can be used for blind assembly.
Oldham couplings are available with bores from 1/8" to 1-1/8" and 3mm to 30mm. Hubs are also available in stainless steel for added corrosion resistance. The complete Ruland product line includes shaft collars, rigid couplings with precision honed bores, and five types of motion control couplings: beam, bellows, disc, zero-backlash jaw, and oldham. 2D and 3D CAD files, full product specifications, and additional technical information are available at www.ruland.com.