Beam Couplings for Motors
Ruland Manufacturing Co., Inc.
May 31, 2016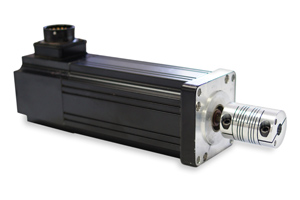 Multiple beam couplings have excellent overall performance characteristics and can easily accommodate shaft misalignment.
Marlborough, MA - Ruland beam couplings are designed to couple stepper and servo motors to encoders, lead screws, and light duty actuators in a variety of industries. They are zero-backlash, have high torsional stiffness, accommodate all forms of misalignment and have a balanced design creating a highly accurate and flexible coupling.
Stepper and servo driven systems benefit from the multiple beam design of Ruland couplings. They consist of two overlapping spiral cuts to increase torque capabilities and torsional stiffness when compared to the commodity style single beam coupling. Separating the spiral cuts into two sets gives the coupling better parallel misalignment capabilities while easily accommodating angular, complex, and axial misalignment.
Ruland beam couplings are available with four or six beams in inch, metric, and inch to metric bore combinations ranging from 3/32" (3mm) to 3/4" (20mm). Four beam couplings are more flexible with lower bearing loads and are ideal for encoders while six beam couplings feature a larger body size with shorter spiral cuts to provide increased torque capability, repeatability, and torsional stiffness. Ruland manufactures beam couplings in 7075 aluminum for improved flexibility and low inertia or 303 stainless steel for higher torque capacity.
All Ruland beam couplings are designed and manufactured in our Marlborough, Massachusetts factory. They are made from select North American bar stock and utilize metric fastening hardware that tests beyond DIN 912 12.9 standards. Beam couplings are RoHS2 and REACH compliant.
Established in 1937, Ruland focuses on the design and manufacture of high performing shaft collars and couplings. All products are carefully manufactured in Marlborough, Massachusetts USA factory under strict controls using proprietary processes. 3D CAD files, full product specifications, and additional technical information, are available at www.ruland.com.
Product Link: Beam Couplings
Article Summary
• Balanced design for higher speeds and reduced vibration
• Three styles offered for wider selection of bore sizes and performance characteristics
• Zero-backlash and easily accommodate all forms of misalignment
• Available in aluminum for lightweight and stainless steel for higher torque capabilities
• RoHS2 and REACH compliant
• Carefully made in our Marlborough, Massachusetts factory and available for immediate delivery
Contact:
Ruland Manufacturing Co., Inc.
E-Mail: marketing@ruland.com

PR Contact:
TPR International
Internet: www.tradepressrelations.com