Large Bore Shaft Collars for Heavy Duty Applications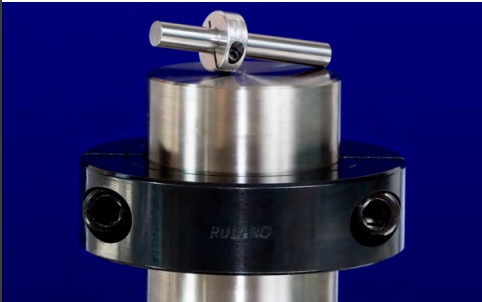 Ruland Manufacturing offers twopiece large bore shaft collars for heavy industries such as oil and gas, sand and gravel, paper, water treatment, off-highway equipment, and steel. The two-piece design allows for simple installation or disassembly without the need to remove adjacent components.
Ruland large bore shaft collars are manufactured to ensure a consistent face to bore perpendicularity. This relationship is important for many applications where components such as bearings need to be properly aligned on the shaft. Face to bore perpendicularity also creates even pressure on the interfaced components reducing the likelihood of axial movement when subject to shock loads.
Heavy duty shaft collars derive their superior holding power from an increased width which allows for larger forged screws, and carbon steel with Ruland's proprietary black oxide finish. Standard bore sizes range from 3-1/16" to 6" (75mm to 150mm). Special designs, materials, and dimensions are available by special order.
Heavy duty shaft collars are part of Ruland's shaft collar product line that includes one- and two-piece clamp styles, set screw, threaded, bearing locknut, double wide, and quick clamping. Ruland also manufactures rigid couplings and five types of zerobacklash flexible couplings: beam, bellows, disc, curved jaw, and oldham. All Ruland products are RoHS and REACH compliant.