Ruland Disc Couplings for Semiconductor and Solar Equipment
Ruland Manufacturing Co., Inc.
June 8, 2015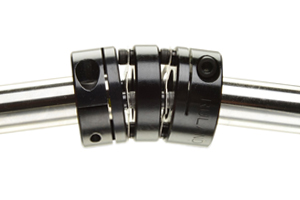 Ruland disc couplings are an ideal fit for highly accurate positioning systems where precise control of motion and flexibility are required.
Marlborough, MA - Semiconductor and solar equipment such as wafer handlers, bonders and screen printers often require rapid movements over short increments to precisely position wafers, chips or panels. Disc couplings from Ruland are torsionally stiff, operate with zero-backlash and have a balanced design, making them an excellent choice for these highly accurate systems with speeds of up to 10,000 rpm.
Disc couplings are comprised of two anodized aluminum hubs for low inertia and multiple flat stainless steel disc springs that allow for a substantial amount of shaft misalignment while remaining rigid under torsional loads. Ruland carefully fastens the discs to the hubs to ensure a secure fit that does not allow for any backlash or play. The disc springs are very thin, allowing them to bend easily under all types of misalignment with relatively low bearing loads.
Ruland disc couplings have a balanced design for reduced vibration, benefiting solar and semiconductor equipment which often position items that are highly sensitive to minor vibrations. The balanced design also allows for higher speed capabilities of up to 10,000 rpm. Single disc styles are well suited for applications where compact installation is required. Double disc styles have a center spacer to increase misalignment capabilities. The center spacer is available in anodized aluminum for general purpose use, or insulating acetal for electrical isolation. Parallel misalignment is accommodated by the double disc style or by essentially using two single disc couplings in tandem.
Ruland manufactures disc couplings with or without keyways in inch, metric and inch to metric bore combinations ranging from 1/8" to 1 1/4" (3 mm to 32 mm). All hardware is metric and tests beyond industry standards for maximum torque capabilities. Stainless steel hubs and spacers and custom designs are available by special request.
Disc couplings are part of Ruland's complete coupling line which includes rigid couplings with precision honed bores and five styles of motion control couplings: beam, bellows, disc, zero-backlash jaw and oldham. All Ruland products are manufactured in its Marlborough, Massachusetts factory and are RoHS2 and REACH compliant.
Established in 1937, Ruland focuses on the design and manufacture of high performing shaft collars and couplings. All products are carefully manufactured in Marlborough, Massachusetts USA factory under strict controls using proprietary processes. 3D CAD files, full product specifications, and additional technical information, are available at www.ruland.com.
Product Link: Disc Couplings
Article Summary
• Balanced design for reduced vibration and higher speed capacities
• Zero-backlash with anodized aluminum hubs for low inertia
• Single disc style for compact installations and double disc style for higher misalignment capabilities
• RoHS2 and REACH compliant
• Carefully made in Ruland's Marlborough, MA factory and available for immediate delivery
Contact:
Ruland Manufacturing Co., Inc.
E-Mail: marketing@ruland.com

PR Contact:
TPR International
Internet: www.tradepressrelations.com