Rigid couplings for packaging applications
Ruland Manufacturing Co., Inc.
June 14, 2014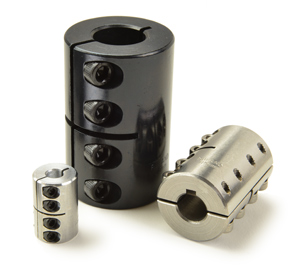 RRigid couplings from Ruland do not introduce misalignment into the system making them ideal for precision servo driven applications as well as shaft to shaft connections.
Marlborough, MA - Ruland offers rigid couplings that are designed for the demanding needs of packaging applications. They have precision honed bores, anti-vibration hardware, and opposing hardware on two-piece styles to ensure superior fit, alignment, and holding power. Rigid couplings from Ruland are available in a wide variety of sizes, styles, and materials to suit the needs of packaging applications such as case erectors, cartoners, baggers, web converters, and form, fill, seal equipment.
Ruland rigid couplings are ideal for shaft to shaft connections and precise servo driven applications found in packaging as they do not introduce misalignment, vibration, or bearing noise into the system. Straight bore rigid couplings from Ruland have precision honed bores for better fit, torque transmission, and alignment. The cross cut design accommodates slight deviations in the size of the shafts being connected for proper fit.
Ruland uses the highest grade forged screws that test to or beyond industry standards for maximum performance. All Ruland clamp type rigid coupling hardware is supplied with proprietary Nypatch coating to resist vibration and maintain holding power. Nypatch provides even seating of the screw, repeated screw installations and prevents galling. Two-piece styles have opposing hardware for balancing, reduced vibration, and higher speed capabilities.
Rigid couplings are offered in one- and two-piece clamp styles with or without keyways in bore sizes ranging from 1/8" (3 mm) to 2" (50 mm). Materials are carefully selected from North American mills and include 1215 lead-free steel, 2024 lightweight aluminum for low inertia, and 303 stainless steel for corrosion resistance. Ruland uses a proprietary black oxide process on steel couplings that produces a fine glossy finish while increasing holding power and corrosion resistance. Custom dimensions, inch to metric step bore combinations, and 316 stainless steel are available by request.
Established in 1937, Ruland focuses on the design and manufacture of high performing shaft collars and couplings. All products are carefully manufactured in Marlborough, Massachusetts under strict controls using proprietary processes. 3D CAD files, full product specifications, and additional technical information, are available at www.ruland.com.
Product Link: Rigid Shaft Coupling
Contact:
Ruland Manufacturing Co., Inc.
E-Mail: marketing@ruland.com

PR Contact:
TPR International
Internet: www.tradepressrelations.com