Hygienic Shaft Collars for Medical Equipment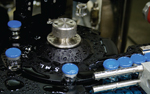 Need a hygienic shaft collar that helps protect medical equipment from excess bacteria buildup? Ruland offers 303 and 316 stainless steel shaft collars as well as patent pending washdown shaft collars to meet the varying levels of bacteria protection necessary in medical equipment such as cell and blood analyzers, microscopy, chromatography, pipetting, diagnostic imaging and patient positioning.
Sanitizing medical equipment may require regular use of chemical cleaning solutions, hot water, and steam sanitizing to reduce the risk of microscopic contaminants. Ruland offers shaft collars for such hygienic applications in a wide variety of sizes, styles, and materials. Ruland 303 stainless steel shaft collars are most commonly used as they offer good corrosion resistance, are economical, and have overall high performance characteristics. For environments that use highly corrosive acids to control bacterial contamination Ruland offers 316 stainless steel shaft collars. Ruland supplies both 303 and 316 stainless steel shaft collars with hardware of like material for consistent corrosion resistance.
Washdown shaft collars from Ruland are a patent pending design that offers the highest level of protection against bacteria buildup. They are a three-piece assembly that protects equipment from hot spots such as saw cuts, screw pockets, and surface imperfections found on traditional shaft collars that may allow for the growth and spread of bacteria. The smooth uninterrupted surface is easy to clean and may be a safer alternative to traditional shaft collars. Washdown shaft collars are pending an IP69K rating against the ingress of dust and water at 80°C and 8 to 10 MPa of pressure.
Shaft collars from 303 and 316 stainless steel are available in one- and two-piece clamp styles with bore sizes ranging from 1/8" (3mm) to 6" (150mm). Washdown shaft collars have bores from 1/4" (6mm) to 1" (25mm). All Ruland shaft collars are manufactured in its Marlborough, MA factory and are RoHS2 and REACH compliant.