Bellows Couplings for Printing Applications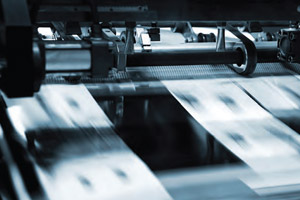 Have a printing application that requires a torsionally rigid coupling that can accommodate misalignment? Ruland bellows couplings have high stiffness and are well suited for large format printers, 3-D printers, offset printers, web converting equipment, and print finishing equipment.
Why Ruland Bellow Couplings?
Lightweight, low inertia coupling with a long maintenance free life
Balanced design reduces vibration at higher speeds
Stainless steel bellows are used for added strength and high torsional rigidity
Accommodates all types of misalignment
RoHS3 and REACH compliant.
Carefully made in our Marlborough, Massachusetts factory and available for immediate delivery.
Bellows couplings from Ruland are comprised of two anodized aluminum hubs and a stainless steel bellows creating a lightweight, low inertia coupling that can accommodate all types of misalignment—parallel, angular, axial motion, and complex. The thin walls of the hydro-formed bellows maintain low bearing loads and flexibility while remaining rigid under torsional loads. Ruland bellows couplings have a balanced design for reduced vibration in applications up to 10,000 RPM. Balancing also helps reduce the risk of common printing errors such as banding.
Ruland bellows couplings are zero-backlash and have no moving parts, ensuring a long maintenance free life. They are available in inch, metric, and inch to metric bore combinations ranging from 1/8" (3mm) to 1" (25mm). Hubs are offered in clamp and set screw styles with or without keyways. Couplings are supplied with metric hardware, DIN 12.9 cap screws on clamp couplings for maximum torque capabilities. Stainless steel hubs, inch hardware, and custom designs are available by special request.
Bellows couplings are part of Ruland's complete coupling line which includes: beam, disc, zero-backlash jaw, oldham, and rigid. All Ruland couplings are manufactured in its Marlborough, Massachusetts factory and are RoHS2 and REACH compliant.