Beam Couplings for Medical Applications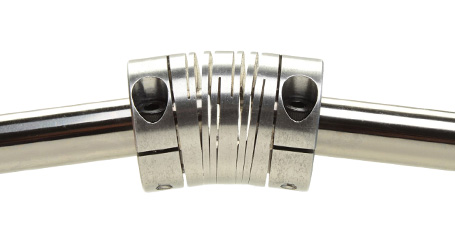 Ruland
are zero backlash, have high torsional stiffness and accommodate misalignment making them well suited for encoder, tachometer, and light duty power transmission applications commonly found in medical equipment. They are designed to ensure low bearing loads and balancing for reduced vibration at higher speeds.
Ruland beam couplings utilize two sets of overlapping spiral cuts to increase torque capabilities and torsional rigidity when compared to the commodity style single beam coupling. Separating the spiral cuts into two sets gives the coupling better parallel misalignment capabilities while easily accommodating angular, complex, and axial misalignment. Zero backlash beam couplings are ideally suited for test and measurement, robotics, imaging, patient positioning, liquid chromatography, and lab analysis equipment which require accuracy of motion.
Ruland beam couplings are available with four or six beams in inch, metric, and inch to metric bore combinations ranging from 3/32" (2mm) to 3/4" (20mm). Four beam couplings are more flexible with lower bearing loads while six beam couplings feature a larger body size with shorter spiral cuts to provide increased torque capability, repeatability, and torsional stiffness. Multiple beam couplings are available in aluminum for additional flexibility and low inertia or stainless steel for higher torque and increased corrosion resistance. Special dimensions, spiral cut patterns, finishes, and materials are available by request.
Beam couplings are part of Ruland's complete zero backlash coupling line which includes: rigid, beam, bellows, disc, jaw, and oldham types. All Ruland couplings are manufactured in our Marlborough, Massachusetts factory and are RoHS2 and REACH compliant.