Beam Couplings for Encoder Feedback Systems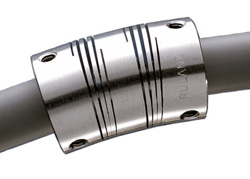 Ruland manufactures beam couplings designed specifically for encoder feedback systems. These couplings offer high misalignment capabilities with low bearing loads and are torsionally stiffer than single beam couplings allowing for greater accuracy and repeatability.
Ruland beam couplings are machined from a single piece of aluminum or stainless steel and feature multiple spiral cuts. This beam pattern provides higher torque capabilities and greatly reduces wind-up when compared to commodity style single beam couplings. The two sets of beams allow the coupling to accommodate all types of misalignment: angular, parallel, axial motion, and complex. Ruland is also the only manufacturer to offer balanced beam couplings as a standard.
Ruland four beam couplings come in two styles, P-Series and MW-Series , for choices in size and performance. Both series are manufactured in aluminum for added flexibility and low inertia or stainless steel for higher torque and increased corrosion resistance. Bore sizes are available in inch, metric, and inch to metric combinations ranging from 3/32" to 1/2" and 3mm to 12mm.
Beam couplings are part of Ruland's complete line of shaft collars, rigid couplings with precision honed bores, and zero-backlash couplings including: beam, bellows, disc, jaw, and oldham. All products are carefully manufactured in our Marlborough, Massachusetts USA facility under strict controls using proprietary processes. 3-D CAD files, full product specifications, and additional technical information, are all available at the new and improved ruland.com.