Backlash-Free Couplings for High-Tech Applications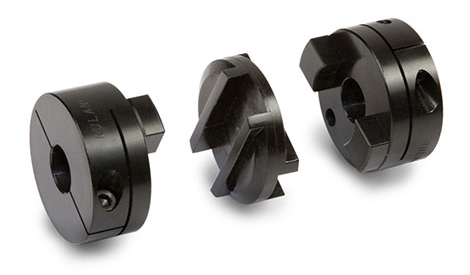 For high technology applications such as test and measurement, inspection, liquid handling, semi-conductor, solar panel production equipment, print and packaging automation as well as medical devices, Ruland manufactures a variety of components including oldham couplings and beam couplings.
Oldham couplings are comprised of two aluminum hubs with drive tenons that mate with a floating center member . This design results in a highly customizable shaft coupling which can easily combine inch to metric, different bore dimensions, and keyed shafts. Oldham couplings are especially useful in applications where parallel misalignment is present. However, they are used in many non-misalignment applications as well due to their light bearing loads, low inertia, electrical isolation, and cost effectiveness.
Commonly used in encoder applications , the beam coupling has multiple spiral cuts machined into a single piece of aluminum. This design offers low inertia and accommodation of angular and parallel misalignment as well as axial motion. The cut pattern ensures backlash-free operation and allows for a small amount of shock absorption. Stainless steel versions are also available for applications requiring higher torque transmission capabilities and corrosion resistance.
All Ruland products are RoHS and REACH compliant and are manufactured in Marlborough, Massachusetts. Special designs, cut patterns for specific applications, keyways, and combination inch to metric bores are also available