Thin Line Shaft Collars for Encoders
Ruland Manufacturing Co., Inc.
August 10, 2015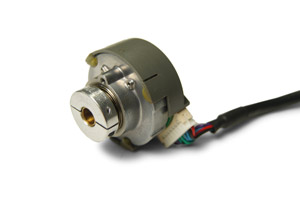 Marlborough, MA - Encoders often require a custom shaft collar to meet their size and performance requirements. Ruland has designed thin line shaft collars with a narrow profile and reduced weight to meet the requirements of encoder applications in a standard product line.
Thin line shaft collars are available in bore sizes ranging from1/8" (3mm) to 1-1/2" . They are manufactured from carefully selected bar stock in 2024 aluminum for lightweight and low inertia and (three O three) stainless steel for higher corrosion resistance. Hardware exceeds DIN 912 12.9 standards for maximum torquing capabilities and holding power. Stainless steel hardware undergoes an in-house treatment process to prevent galling.
Thin line shaft collars offer encoder manufacturers greater design flexibility than traditional shaft collars. Each bore size has different screw sizes to choose from allowing the user to select the proper amount of holding power for the application. Additionally, every bore size is available in multiple width and outer diameter configurations that are designed to fit the profile of hollow bore encoders.
Clamp style thin line shaft collars from Ruland have high holding power, do not mar the shaft, and are easy to install. They have tightly controlled face to bore perpendicularity (TIR of .002" or 0.05mm) for proper alignment of the mated component. Clamp style shaft collars distribute compressive forces evenly around the shaft for a tight fi and improved holding power over set screw style. Two-piece thin line shaft collars have opposing screws for balancing and better performance in high speed applications. They offer increased holding power, in-place installation and disassembly, and are mated throughout the manufacturing process for proper fit and alignment. All thin line shaft collars are stamped with the Ruland name for ease of identification.
Thin line shaft collars are part of Ruland's encoder product line that also includes beam, oldham, and bellows couplings. All products are manufactured in Ruland's Marlborough, MA factory under strict controls using proprietary processes.
Established in 1937, Ruland focuses on the design and manufacture of high performing shaft collars and couplings. All products are carefully manufactured in Marlborough, Massachusetts USA factory under strict controls using proprietary processes. 3D CAD files, full product specifications, and additional technical information, are available at www.ruland.com.
Product Link: Thin Line Shaft Collars
Article Summary
• Designed to fit the narrow profile of hollow bore encoders
• Tightly controlled face to bore perpendicularity for proper alignment of mated component
• Hardware tests beyond DIN 912 12.9 standards
• Materials are specified from select North American mills
• RoHS2 and REACH compliant
• Carefully made in our Marlborough, MA factory and available for immediate delivery
Contact:
Ruland Manufacturing Co., Inc.
E-Mail: marketing@ruland.com

PR Contact:
TPR International
Internet: www.tradepressrelations.com