New from Ruland: Thin line shaft collars
Ruland Manufacturing Co., Inc.
April 24, 2014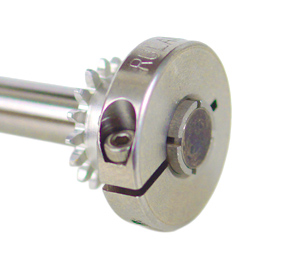 Multiple outer diameter and widths are available for most bore sizes allowing users to select the best fit for their application. Bore sizes range from 3/16" (5 mm) to 1-1/2" (40 mm).
Marlborough, MA - Ruland has developed thin line shaft collars for use in applications with outer diameter, width or weight limitations. Thin line shaft collars function as clamps, positioners, guides, spacers, and stops in a smaller profile than traditional collars. Designed for applications with space and weight restrictions in industries such as packaging, printing, medical and food, they are particularly suitable for split hub componentry such as encoders. Two-piece styles have a balanced design for higher RPM applications.
Thin line shaft collars from Ruland deliver high holding power in a compact design suitable for a variety of light and medium duty applications. Most bore sizes are available with different outer diameter and width dimensions and screw sizes allowing the user to match space restrictions and holding power with their application requirements. Thin line shaft collars have tightly controlled face to bore perpendicularity, TIR of <.002", for proper alignment of mating components.
Ruland offers thin line shaft collars in one- and two-piece clamp styles. Clamp style shaft collars have high holding power, allow for simple positioning adjustments and do not mar the shaft. Two-piece styles are balanced for better performance in high RPM applications. Halves are mated together throughout the manufacturing process for proper fit and alignment.
Thin line shaft collars are available in high strength type 2024 aluminum and 303 stainless steel for added corrosion resistance. Materials are sourced from select North American mills to ensure product consistency. Clamping hardware tests to or beyond DIN 12.9 standards for maximum torque capabilities. Thin line shaft collars are offered with bore sizes ranging from 3/16" to 1-1/2" (5 mm to 40 mm). Custom bore sizes and geometry, mounting holes, and inch hardware are available as special designs.
The complete range of Ruland shaft collars includes one- and two- piece clamp styles with smooth or threaded bores in a variety of materials including 1215 lead-free steel, 303 and 316 stainless steel, 2024 aluminum, zinc plated steel and engineered plastic. All Ruland products are RoHS2 and REACH compliant.
Established in 1937, Ruland focuses on the design and manufacture of high performing shaft collars and couplings. All products are carefully manufactured in Marlborough, Massachusetts under strict controls using proprietary processes. 3D CAD files, full product specifications, and additional technical information, are available at www.ruland.com.
Product Link: Thin lIne Shaft Collars
Contact:
Ruland Manufacturing Co., Inc.
E-Mail: marketing@ruland.com

PR Contact:
TPR International
Internet: www.tradepressrelations.com