Clamp Style Shaft Collars from Ruland
Ruland Manufacturing Co., Inc.
August 22, 2013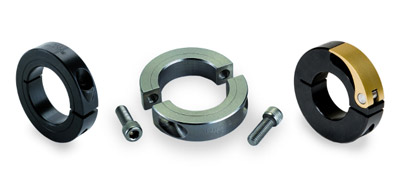 Marlborough, MA - Shaft collars are one of the most versatile machine components with a variety of uses including positioning, guiding, stopping, clamping, and spacing. To overcome common problems with set screw shaft collars, Ruland offers one-piece, two-piece, and quick clamp style shaft collars.
Unlike set screw style collars, clamp style shaft collars are easy to remove, infinitely adjustable, and will not mar the shaft. One-piece collars distribute compressive forces evenly around the shaft for a tight fit and improved holding power. With an additional screw, the two-piece collar has superior holding power and can be installed without removing other components. Quick clamping shaft collars were engineered by Ruland with a low profile clamping lever which is operated by hand without the need for tools.
Clamp style shaft collars are machined to maintain a precise face to bore perpendicularity for proper alignment. This is important for many applications where components such as bearings need to be aligned on the shaft to prevent unnecessary wear. Ruland's black oxide finish, carefully selected hardware, and additional proprietary processes help to ensure a superior fit, finish, and holding power.
Ruland shaft collars are manufactured from carefully sourced aluminum, lead-free steel, stainless steel, and engineered plastic. Threaded, keyed, double wide, and heavy duty clamp style shaft collars are also available from Ruland with bore sizes ranging from 1/8" to 6" and 3mm to 150mm depending on style. Ruland products are manufactured in our Marlborough, Massachusetts factory under strict controls using proprietary processes. Shaft collars are part of Ruland's total product offering which also includes rigid couplings and five types of motion control couplings: beam, bellows, disc, oldham, and zero backlash jaw.
Ruland Manufacturing was established in 1937 and for the past 40 years has focused on designing and manufacturing high performing shaft collars and couplings.
Product Link: Clamp Style Shaft Collars
Contact:
Ruland Manufacturing Co., Inc.
E-Mail: marketing@ruland.com

PR Contact:
TPR International
Internet: www.tradepressrelations.com