Ruland and Acorn form Partnership in UK Market
Ruland Manufacturing Co., Inc.
October 10, 2015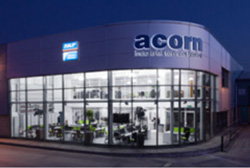 Acorn Industrial Services Limited Rotherham, South Yorkshire.
Marlborough, MA - Ruland Manufacturing Co., Inc. has entered into a distribution agreement with Acorn Industrial Services Limited, a UK-based provider of power transmission products, to supply Ruland shaft collars and couplings to the UK market.
Acorn Industrial Services has been serving the power transmission needs of the UK market for over thirty years. Headquartered in Rotherham, South Yorkshire Acorn is one of the largest stocking distributors in the UK and has nine branches to better serve local markets.
In announcing this agreement, Des Spillings, Sales Director of Acorn, commented, "We are excited to add Ruland shaft collars and couplings to Acorn's world-class product offering. Ruland has a reputation as the leading shaft collar and coupling manufacturer and will fit well with or existing products and services." Bill Hewitson, President of Ruland, added, "Acorn has a strong presence and longstanding reputation for distributing premium products in the UK market. They are an excellent fit for Ruland and we look forward to a long and successful relationship between our companies."
Established in 1937, Ruland focuses on the design and manufacture of high performing shaft collars and couplings. All products are carefully manufactured in Marlborough, Massachusetts USA factory under strict controls using proprietary processes. 3D CAD files, full product specifications, and additional technical information, are available at www.ruland.com.
About Acorn Industrial Services:
With over 30 years' experience in the supply of bearings, linear systems and power transmission products, Acorn Industrial Services Ltd offers an impressive stockholding of over one million items at its 40,000sq.ft premises in Rotherham and through its national network of regional distribution centres.
Acorn Contact:
Acorn Industrial Services Limited
Internet: www.acorn-ind.co.uk
E-Mail: marketing@ruland.com

Ruland Contact:
Ruland Manufacturing Co., Inc.
Internet: www.ruland.com
E-Mail: marketing@ruland.com

PR Contact:
TPR International
Internet: www.tradepressrelations.com